— by founder Nickolay Lamm
"What if Fashion Dolls Were Simply Made Using Standard Human Body Proportions?"
This is the question I asked after shopping for a doll for a niece of mine in 2013. I thought to myself, "Surely they have the technology to do it, it can't be that hard!" I Googled what a realistic Barbie would look like and did not find anything. So, using 3D printing and Photoshop, I made a digital prototype of a doll based on the proportions of an average 19 year old American woman.
The project was featured by HuffingtonPost, Today, Time, LA Times, Good Morning America, CNN, CBS, Cosmopolitan, The Daily Beast, BBC Radio and many other news outlets. Even Demi Lovato tweeted about it!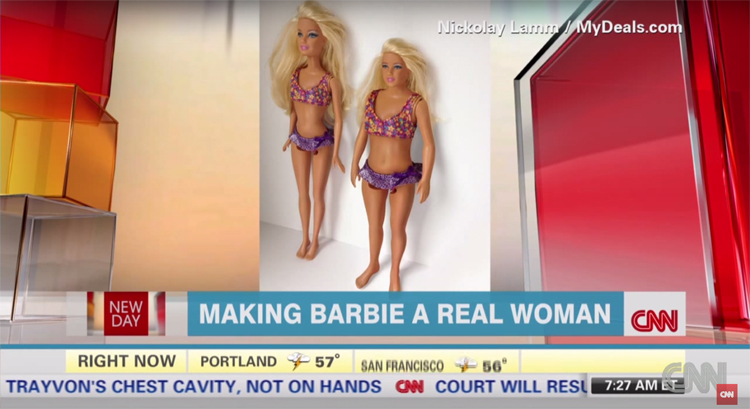 Soon, I was getting emails from moms and grandparents asking, "Where can we get a doll like this?". But I had to tell them that it doesn't exist because the doll they saw was just a Photoshopped image, it wasn't a real doll yet. 
So, on March 5, 2014  I launched crowdfunding campaign to make dolls with typical human body proportions a reality. More than 13,621 backers, preordered over 19,000 dolls. The crowdfunding was covered by HuffingtonPost, Time, USA Today, Upworthy, and more. After months of production and design, the first Lammily doll was ready to be released…
On November 19, 2014 the Lammily line of dolls went on sale and shipping to all backers began as well. At this time, we also released Lammily Marks, a set of reusable sticker accessories for fashion dolls, allowing them to have stretch marks, cellulite, moles, etc. We also released a video of second graders reacting to Lammily vs Barbie, which was featured on CNN, BuzzFeed, ABC, and many other media outlets. This launch generated so much media attention, that, according to Time, it influenced Mattel to release Curvy, Tall, and Petite Barbie in 2016. 
Since we launched in 2014, we've continued to expand the Lammily line of dolls…
Photographer Lammily, our second doll, was launched on September 22, 2015. Enough of our customers preordered her, which allowed us to begin production.
Animal Rescuer Lammily, the first male fashion doll with average proportions, was launched via a crowdfunding campaign on March 5, 2016.
Lammily Wheelchair, the only fashion doll sized wheelchair on the market. Kickstartered into production on December 2016, on sale this summer.